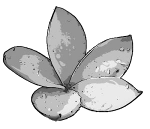 A
Knob
is
a
annoying
thing
Which Plumeria lover does not know the situation. You wait for 3 or more years for the first flowering of a seedling and then only a strange lump appears and you know that now you have to wait at least 2 years until the plant tries again. Couldn't you freak out?
Diesen Ärger hatten wir alle sicher schon einmal. Viele wissen nicht mal, was dieser Knubbel sein soll. Immerhin verzweigt sich die Pflanze nach der "Knubbelbildung". Ist aber auch der einzige Vorteil, den man der Sache abgewinnen kann.
But what is this lump?
Dieser Knubbel ist tatsächlich der Versuch der Pflanze eine Blütenknospe zu bilden. Leider ist die Pflanze aber nicht kräftig genug um der Knospe den letzten Kick zu geben und es wird nur eine "Fake" oder "Pseudo" Blüte. Einfach ein Stöpsel.
What can we do about it?
If we recognise in time that a bud attempt looks like a knob, we can carefully clip off all the mini-leaves around the bud with our fingernails. A long, pointed pair of scissors will also work (just make sure they are clean).
After up to 10 days you can see whether this intervention has been successful. You should then see that the plant now forms an umbel instead of a lump.
With this, we will be able to have our seedling show us its first flower.
This phenomenon can also occur in adult plants if they do not have the strength to form buds for certain reasons.