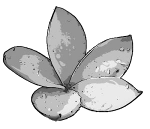 The
wrong
Flower colour...
It very often happens that Plumerias are bought and the customers then think that something is wrong because they ordered a red, yellow or orange colour and the Plumeria then suddenly only flowers in white.
However, one of the most important causes is often the lack of sun. Plumerias change their flower colour depending on the sunlight. If your Plumeria that should be pink or red flowers is only white, place it in full sun and you will see that new flowers will have the corresponding colour.
In the picture on the right you can see a Plumeria rubra "Roma" that was supposed to flower pink. Unfortunately, the 4 white flowers received very little sunlight. The new flower in the background is now pink and thus corresponds to the flower colour that the Plumeria rubra 'Roma' should have.
Typical candidates for this are: Roma, Divine, Gina, Mardi Gras, Mystique, Nebels Rainbow... just to name a few.
TIP: In general, however, this circumstance applies to all colourful flowering Plumerias.