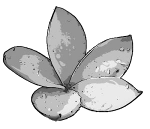 A
frequent
question
at
Plumeria
Beginners
... where do I have to look for new buds?
Many beginners who have not been dealing with this beautiful plant for very long often ask where new buds develop. Whether between the leaf shoots or on the fallen leaf shoots.
Here we will explain exactly where to look for a Plumeria flower and where not.
Plumeria buds ALWAYS grow from the centre of growth(i.e. the middle of the stem at the end of the plant). NEVER from the side or from old leaf shoots. It is possible that flower shoots that were partially sprouted before the winter break are still 'alive' after the winter break and continue to grow. This always depends on how vigorous the plant is.